Museum and Gallery Mlejn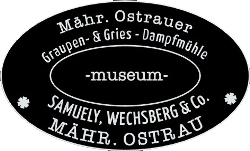 18.00–23.00
Free entry
(Museum Mlejn)
18.00–23.00
Guided tours
(Museum Mlejn)
The history of the mill in Moravian Ostrava, history of Samuel & Wechsberg mill, exposition of the period tools and devices, exposition of metal mills (by Porkert, Leinbrock, Kosmos, and Moravia) and presentation of grinding using stones and mills. Every tour starts on the hour and take about an hour too. The last tour starts at 22.00.
18.00–23.00
Free entry to an exposition by Polish artists from Wroclaw – Alexander Zyško et al.
(Gallery Mlejn)
20.00
Concert of an Ostrava trio Onaaonidva
A concert with features of electro-acoustic performance, experimental jazz and vocal-dramatic expression. With Darina Žurková, Václav Vrobel, and Marek Dufek.
19.00–21.30
Exposition of canvases by Marek Pražák
(Room "Z", 1st floor)
19.00–21.30
Music demos in studio
(Studio 1st floor)
Contact:
Muzeum a Galerie Mlejn
Nádražní 3136/138 A
702 00 Moravská Ostrava
galeriemlejn@gmail.com
www.mlejn.com
Phone number: +420 596 136 033